As a man, writing male characters for the screen has always come naturally to me. I know how guys walk, talk, eat, think, and speak. Female characters, on the other hand, can be a bit more challenging. Often times my fellow male writers relegate them to uninteresting, one-dimensional stereotypes. But that doesn't have to be the case. Follow my simple rules, and you'll never again have problems creating relatable, dynamic, and realistic female characters.
First, let's look at the wrong way to write a female character…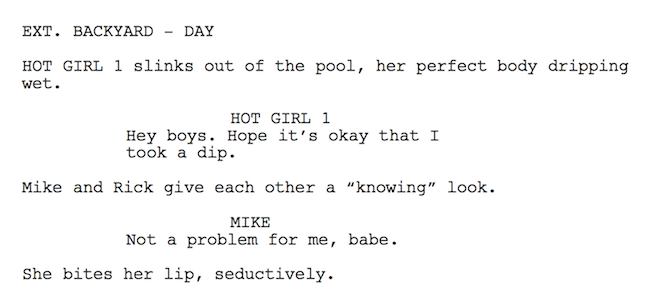 "Hot Girl 1"? Come on, dude. You'd never name a male character "Hot Guy 1" This brings us to my first rule:
Name your female characters.
By naming women, you're humanizing them and giving your audience (and yourself!) a reason to identify with them. It makes her a person, not a prop. Let's see how it alters the scene…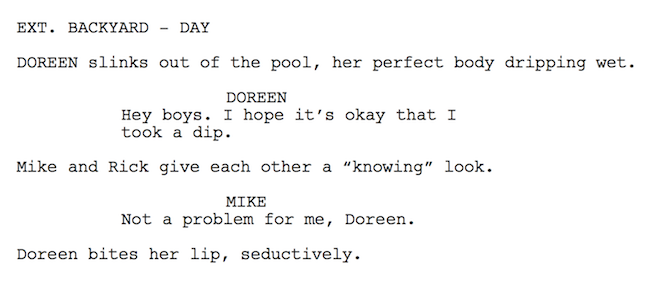 Wow, what a difference! Now we know it's Doreen who's coming out of the pool. I wonder how she got there? And what makes her tick? Her name has already made her that much more of an intriguing character. Nice work!
Let's see another example of the wrong way to write for women…
OK buddy, you think men are so interesting that we're all that women talk about, huh? Sorry, fellas, but it's time to get real, and follow my next rule:
Make your female characters talk about more than just men.
It's simple. In real life, women have interests, thoughts, hopes, dreams, regrets. They're not just sex objects who obsess over dudes! Let's see what happens when we add a little something to the dialogue…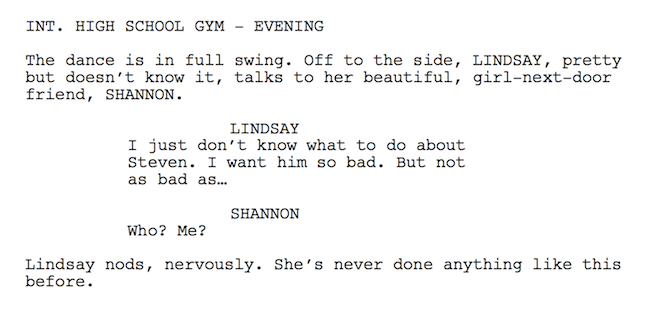 Wow. Lindsay's bisexual? And so is Shannon? Riveting! And we would never have known that if they kept yammering on and on about men. This scene really picked up steam with its newly added depth. Great job!
Let's look at another wrong way to write for women…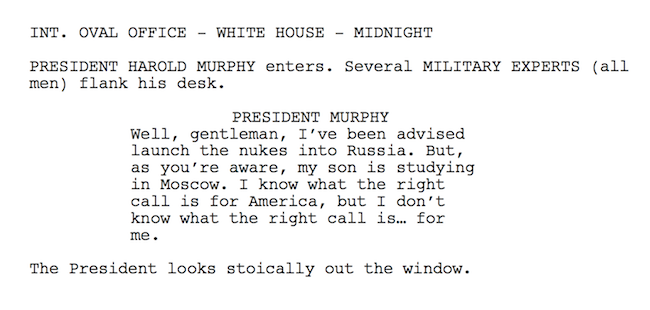 A dramatic moment, sure, but what's missing? I'll tell you. A woman! All too often we imagine high-status figures as men because that's what society has taught us to believe, but if we bend our minds a little, we can imagine women in powerful roles as well. That's my next rule:
Make a character usually played by a man a woman.
By breaking stereotypes, we'll add an interesting ripple to our character. It'll only add depth and intrigue to what is already a strong scene. Let's see how it reads now…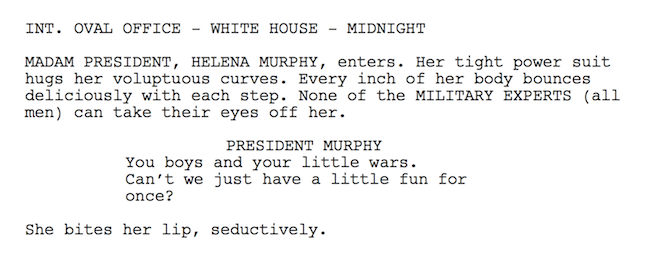 And just like that, we've made the president a woman! See the difference in the scenes? A women can be president, and in our film she is. Pretty cool if you ask me.
Okay, one more bad scene…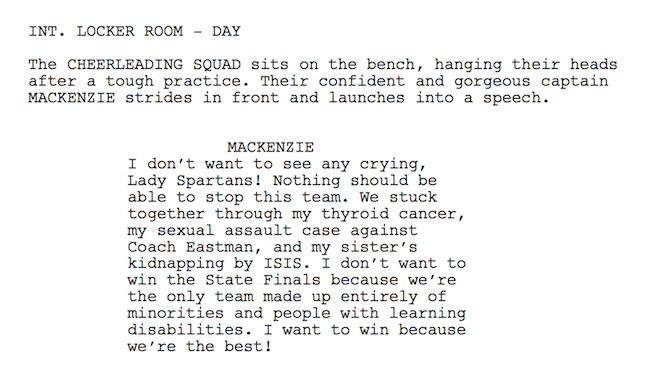 Really? How many times do we have to see this "captain of the cheerleading squad" stereotype. We get it. She's young, she's hot, she's a bitch. Stop relying on clichés to write your scenes! That's my final rule…
Make your female characters three-dimensional.
Give her something! Anything to make her a real human being and not just a cartoon drawn through the eyes of the male gaze. Let's try that again, shall we?

WOW! A scar! Now that's cool and original! It's a whole new facet for what normally is an uninteresting, cornball character.
And just like that — a simple yet thoughtful addition can turn a dumb, sexist scene into a brilliant one. That was the case for all these examples.
So that's it, fellas. Just follow these rules, and you're on your way to writing amazing, compelling 18-year-old female characters. Oh yeah, don't ever make them older than 18. Good luck, guys!