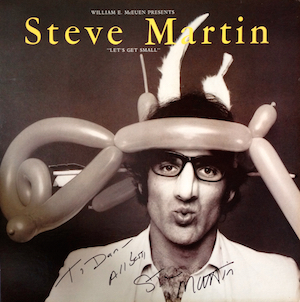 - - -
There are a few stereotypes of comedians that I've heard over and over through the years. In my experience, many of them are true but never entirely so. There's the manic "always on" cliché. Robin Williams comes to mind with this one. But he also could be quite serious and I had many wonderful and sincere conversations with him. Then there's the reverse personality type. The dark, brooding, deadly serious, never "on" type. This is the one that always seems to catch people off guard, myself included. And that's the reputation I had heard about Steve Martin for years before finally meeting and working with him. And to be honest, by the time we met, I was beyond nervous.
In the 1970s, Steve became the first rock star comedian, selling out arenas with his "Wild and Crazy Guy" act. I was a kid in grade school, head over heels in love with his comedy—most kids my age were. A full generation before comedy fans were quoting the catch phrases of Austin Powers and Borat, they were putting fake arrows through their heads and shouting, "well excuuuuse me!" Now back then, I don't think I consciously got the meta joke that Steve, clad in his white suit, was sending up all that was cheesy and insincere in show business. I just took him at face value without a more sophisticated understanding that he was playing a character named Steve Martin. (Much in the same way Stephen Colbert and Sarah Silverman have created comic alter egos that bear their same name.) All I knew was that he was funny. Really funny. He was also a phenomenon. And as he chronicles so brilliantly in his book, Born Standing Up, at the height of Steve Martin mania, he was over being a phenomenon. He stopped doing stand up and didn't look back. This puzzled me; the wild and crazy guy became the enigmatic guy.
In the mid 1980s, when I was in paying my way through film school writing jokes for comedians and performing stand up, I got a call from a friend who was working up in Canada with Steve on the movie Roxanne. He had cast dozens of stand up comedians around him and he had put the word out among them that he wanted pitches for a scene where his character (based on Cyrano de Bergerac) had to tell 20 nose jokes at his own expense. I quickly composed a page of jokes and sent them off. Word got back to me that Steve liked my stuff and I later received a thank you note and a sweatshirt, both of which I still have. But I still never got to meet the man. The mystery of him persisted.
About 15 years later when I worked at Carsey-Werner, Steve and his producing partner, the late and lovely Joan Stein, had a deal with the company. Joan and I became good friends and we set about finding projects on which to collaborate. One such project came to be known as The Scholar. A reality show about high achieving but in need high school seniors, it aped the form of a competition-elimination show with the winner getting a full-ride scholarship to the university of their choice. It was totally sincere and earnest in its intentions. Hardly the series you'd think Carsey-Werner, Steve Martin, or I would be interested in producing. But we all liked the notion (which was brought to us by a bright young woman named Jaye Pace) and we set about developing it. At this point, I still had yet to meet Steve. But it was inevitable, as we were about to work together. In the meantime, people kept advising me on how to conduct myself with him with the grim sincerity of preparing to meet a royal. Or a bear in the wild. If the intention was to amplify my fears, it was working.
Finally, the first creative meeting was set in Joan and Steve's office. I walked in and there he was. As advertised, he was quiet, serious and thoughtful. Not unfriendly, but not outgoing. And he certainly was neither wild nor crazy. But he was creatively engaged and his contributions to the development process were smart and interesting. And, over the next few weeks and months, I grew more comfortable in his presence. Then, in one creative meeting, I made an offhand remark that struck Steve funny. And he laughed. Hard. Everyone froze. I don't think I drew a breath for well over a minute. (I wish to God I could even remember what I said.) Right then and there, I resolved to never try to say anything funny in Steve's presence again. I was one for one. I was batting a thousand. And I wanted to keep it that way. In the end, the show sold to ABC. However around that time I left the company and went on to executive produce a series called Starved for FX while the rest of the team, along with the folks at Bunim-Murray, continued on to make The Scholar, which sadly only lasted one season. But that one moment with Steve will forever be frozen in amber in my mind. It made the comedian who seemed so unknowable, just a little knowable. And that was enough for me.