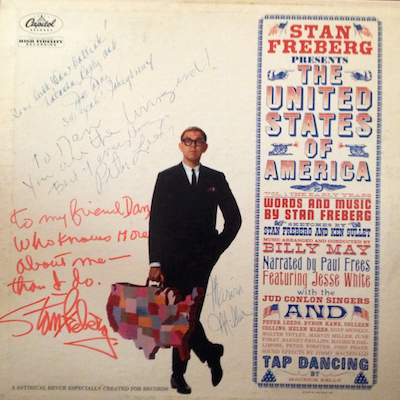 - - -
Part of being a comedy nerd is knowing all the best people working in sketch and standup today. But it's about knowing and appreciating comedy's history, too. So if you think of yourself as a comedy nerd and you don't know the work of Stan Freberg, stop reading this and go look him up. No seriously, do it now. I'll wait here. OK, are you back? Good. Let's continue. So now you know that he is one of the all-time greats. Stan's work spans records, radio, TV, animation, and advertising—and he's been an innovator in each form.
The essential Freberg is his work on records and his short-lived but brilliant 15 episode CBS radio series from 1957. In my opinion, his album, Stan Freberg Presents The United States of America Volume 1 is THE great comedy concept album. (Even over and above the seminal time capsule of Vaughn Meader's The First Family.) Freberg's masterwork is the Sergeant Pepper of comedy LPs.
Over the years I have met and have had several members of Stan's regular supporting players sign the album including June Foray (AKA Rocky the Flying Squirrel), Marvin Miller, and the late great Peter Leeds, who also played the uber-cool hipster bongo player on Freberg's "Banana Boat" send-up of Harry Belafonte. While my path has crossed with Stan's a few times, I always found myself too intimidated to truly engage him and had the nerve to ask him to sign the album.
I once chatted with him in the halls of the old CBS Television City building. I was working for the network and Stan had come in to record some voice-overs for on-air spots. But all I could do is, once again, genuflect and blather on about what an inspiration he was to me. Stan took my praise graciously, but barely broke stride, hustling down the hall.
A little over a decade ago I was working at the TV company Carsey-Werner. Stan was familiar with the company, having appeared on their show Roseanne, courtesy of another longtime fan, writer/executive producer Eric Gilliland. I was producing a satirical sketch pilot at the time for my alternative pod inside the company when I ran into Stan at an industry event. For the first time, I found myself speaking with Stan not as a fan but as a tradesman in his field of expertise: satire. He seemed invested in our exchange and a real connection was made. I tried to keep my cool… but it was hard.
Shortly thereafter I took Stan to lunch at a favorite restaurant of mine in Brentwood. By this time, I was comfortable with Stan and brought my LP to the meal. Meanwhile, seated at the next table was George Carlin. I was pleased to introduce the two men when George came over to say hello. But for George, no introduction was necessary. He immediately launched into Freberg bits, assuming the Leeds role from "Banana Boat". He proceeded to tell Stan the story of how, when he was a DJ in Shreveport Louisiana, he almost got fired from his job because he kept playing Stan's "Green Chri$tma$" record over and over. The record was a brilliant, pointed satire of the over-commercialization of the holiday and Carlin told his station manager that it was the most moral record ever made.
Of all the great comedy nerd moments I've gotten to experience in my life, sitting at that table while one of my heroes came by to pay homage to another of my heroes has got to be at the top of the list.