Our crack team of aspiring high school-aged music journalists — for this interview, that included Zoe G, Brianna O, Cassie R, and Imaan Y — met with Neon Indian composer and frontman Alan Palomo on Saturday afternoon at the 2016 Pitchfork Music Festival. These creative writing students channeled their musical knowledge and interviewing skills during the following on-the-spot Q&A with Paloma, who is old enough to reference MySpace but young enough to know about Grand Theft Auto V, and even revealing that an envious ex-girlfriend accidentally provided the name for his popular band.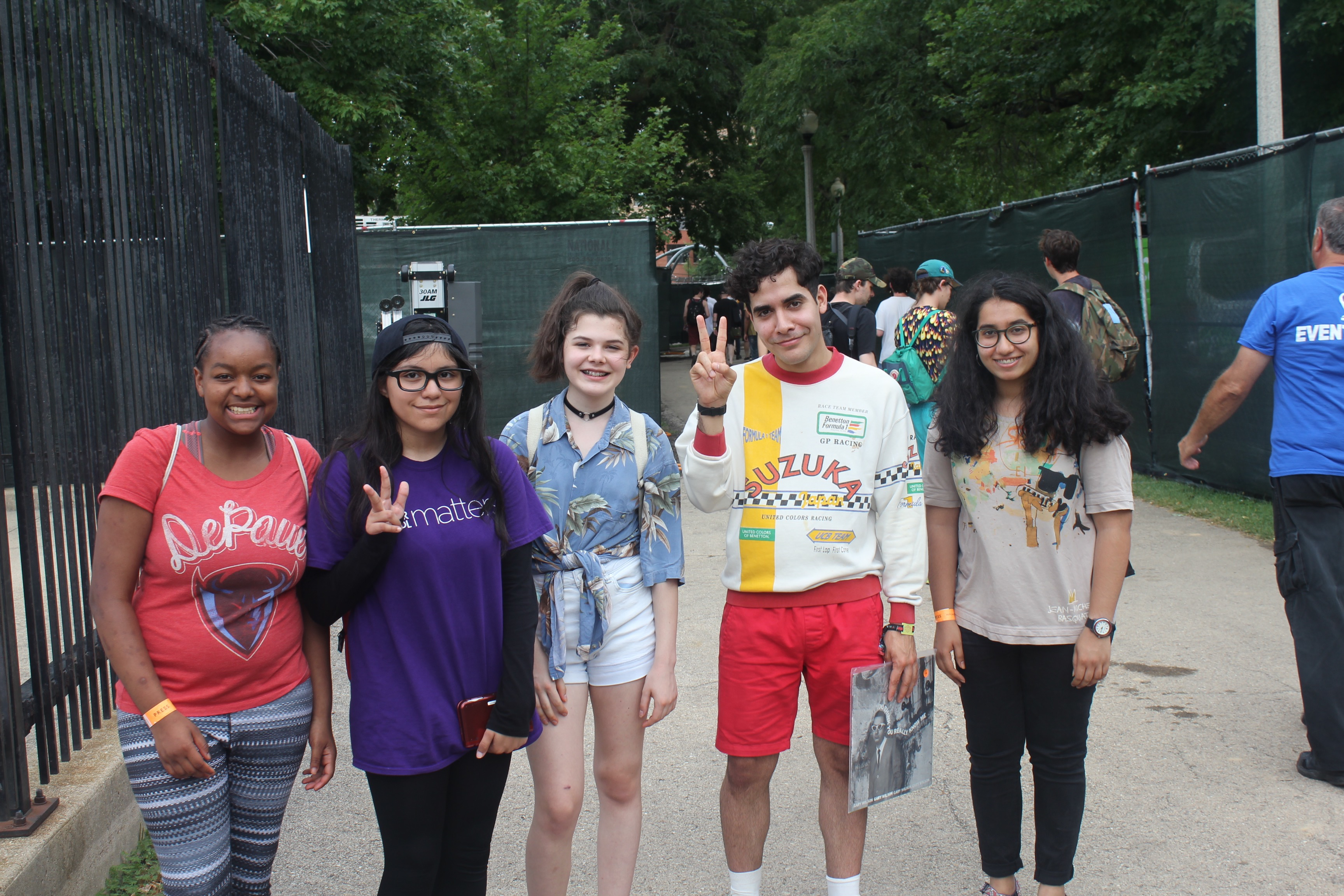 Alan Palomo is the energetic 28-year-old frontman of Neon Indian, an electronic band that originated in Texas. The name Neon Indian perfectly captures the feeling and rhythm of the band — their aura is bright neon. From their first album, Psychic Chasms, to their most recent, Vega Intl. Night School, Neon Indian delivers a steady dose of chillwave sound to whoever is listening. Even if you have no prior interest in electronic music, it would be hard not to fall in love with their sound. We, the students of 826CHI, met up with Alan at Pitchfork Music Festival and were delighted by his pleasant attitude and openness to our questions. Onstage, Alan dances and sings in a way that's larger than life, but in the flesh, he's incredibly down to earth. In our time together, we talked about the band's past, present, and possible future. We also discussed the band's fan base, Alan's favorite onstage experiences, and the origins of the name "Neon Indian." — Zoe G.
- - -
826CHI: So what's your name and what's your role in the band?
ALAN PALOMO: My name is Alan and, for some reason, I sing.
826CHI: How do you think your music has changed since Psychic Chasms?
ALAN: So basically, the first record was a creative exercise. I told myself, "You're going to wake up and you're gonna write a song that day and you're not going to overthink it, you're just gonna do it." And I wound up writing a song every day for almost a month and then I had a record. That hasn't happened since. They always tell you, You have your whole life to write your first record and then six months to do the next one. But I think as time went on, I realized that the novelty of not knowing what I was doing started to get old and I had to become an actual musician. That's been the most radical shift. With this past record, it was a little bit more technically complicated… I brought my brother in. He's a very gifted bass player and guitar player.
826CHI: Your sound is really electronic, but have you ever considered doing something acoustic?
ALAN: It's funny, because I wanna say six years ago we did a cover for Fader of this old Spanish standard called "Medioco," which is a song about his dad or something. But that is the only time that we've done something like that. The only songs that I know on guitar are bad Radiohead covers. Everyone knows a bad Radiohead cover. But, I don't know, I think on a long enough timeline I would definitely try that, for sure.
826CHI: We're curious about the thinking behind your album title, Vega Intl. Night School, and the cover art. Can you explain that a little bit?
ALAN: Definitely. The reference to Vega is from something that I did before Neon Indian, which was kind of a dance-oriented project. I realized that I had set out to write a Vega record and revive the band and start writing more songs in that style, but the tediousness of dance music production was starting to get in the way again. I realized I was just splitting hairs over Is it a Neon Indian song or a Vega song? So instead, I thought that Vega should just be cannibalized by its brother Neon Indian; they just integrated into one project. I think that the record was going to be called Night School but I like the idea of creating this weird little universe for a night school called International Vega. The record's very nocturnal and very much about my years in New York. I wanted to have some weird, acid-soaked parts of what those anecdotes are.
826CHI: What inspired your band name?
ALAN: Right at the beginning of college, I had a band called Ghost Hustler and my ex-girlfriend, in mock retaliation, was like, "All right well, if you're going to have a band called Ghost Hustler, then I'm gonna start my own band." She called it Neon Indian but none of her friends could play any instruments, so they just had a Myspace page with no songs for a few years. I think of it as a sort of homage to this band that never came to be. And it's called Neon Indian.
826CHI: What's your favorite song to perform?
ALAN: Off this new record, definitely "Dear Skorpio Magazine" As far as older songs go, "Mind Drips." We always keep that one in the set. I'm obsessed with that song. I'm still very satisfied with that one. And lately we've been doing a cover of Prince. It's a song from Around the World called "Pop Life." We'll probably do it today.
826CHI: So, I read that you guys have a song on the Grand Theft Auto V soundtrack. How did that happen?
ALAN: They reached out and it was just kind of like, when you get that phone call, you definitely don't say no to it. It's wild that it's one of the most successful video games of all time. It made me feel like, "Oh, cool, this is like a little earmark in history, something that I got to contribute to, that I think is very special and unique." We were trading song ideas back and forth a little bit, and they kept talking about the To Live and Die in LA soundtrack which is sort of a schlocky, '80s B-movie, like an LA cop movie. And the soundtrack was done by Wang Chung, the '80s band that sang that song "Everybody Have Fun Tonight." So, yeah. They wanted something in that vein and "Change of Coast" was what I came up with.
826CHI: Yeah, it does have a very beachy sound.
ALAN: Totally, totally!
826CHI: As a kid, did you ever think you would join a band?
ALAN: Well, my brother and my dad are musicians. They've been playing instruments their whole lives, but I was always more interested in film. It's what I studied in college. I tried to start a really awful band in high school called The Bit Rate and I had a Casio Rapman that I was running through a distortion pedal. We had one terrible practice and we never got together again. At that time I was like, "Don't quit your day job." But later on down the line, when I revisited music under a different set of circumstances, it was kind of unexpected. I thought I would work in film. But for being in my twenties, I couldn't ask for anything better.
826CHI: What's your fan base like?
ALAN: It seems really eclectic. It depends on the festivals that we play, or the shows. Seems like a good bit of youngsters, a strong high school crowd, and the more diehard fans, too. You see 'em at shows coming back, and they're the ones that probably take some sort of psychotropic beforehand to enhance the show, which I'm not going to endorse or condone, it just is what it is. But yeah, I'm pretty happy with my fans.