[Read Part 1, Part II, and Part III.]
- - -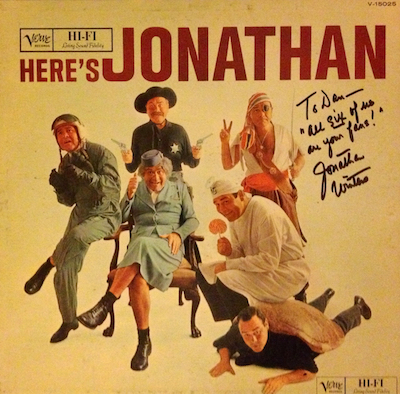 - - -
In late 2010, my mother was diagnosed with an aggressive metastatic melanoma. Having lost my father only four years earlier, I couldn't imagine a much bigger blow. She was in LA and I had just moved my family to New Jersey earlier that year. But I flew out for all of her important doctor's appointments. And beyond that, I looked for ways to just spend as much quality time with her as possible. And since my trips out to California almost always included a day to go up to Santa Barbara to see my dear pal Jonathan Winters, I began combining the two. Mom and I would have a beautiful drive up and back along the coast and then she, Jon and I would have lunch someplace fancy, where Jon would usually flirt mercilessly with her. It was harmless, but hey, they both had lost their respective spouses, so I was cool if it went further. (It didn't.)
Mom put up a hell of a fight, but on April 16, 2012, she slipped quietly away at home, in her own bed, with me right there, holding her hand. Jon called often to check on me. He asked if there was anything he could do. As I knew he had been having health issues, I asked him to do me one favor. I said I couldn't handle losing he and my mom in the same year so he needed to take care of himself. He laughed and told me he couldn't promise anything… but he'd do his best.
A year later, I was preparing a trip to Sweden for work when I called Jon. He picked up the phone and, as usual, I launched into a bit. "Hello Colonel?" We often called each other in characters prompting the other to jump in and play until one or both of us broke up. But that day, Jon just said "Hey Dan, call me later." I knew something was up. The next day I spoke to Jonathan's nurse and then his daughter Lucinda. After beating booze, mental illness, cancer and the loss of his wife, Jon's heart was giving out. How ironic because while his brain made him a genius, his heart made him my friend. I had hoped we'd speak again. Just one more time. But on April 11, 2013, I was awakened in my hotel room in Stockholm by a call from our mutual friend Robert Klein to tell me the bad news. Five days before the one-year anniversary of my mom's passing, Jon was gone.
I told Jon's family I would be there for them in whatever way they needed. In turn, they said they would wait for me to get back to the States to put together a memorial service. They set a date and booked the Lobero Theater in Santa Barbara. But at that point, they felt stuck. It was too big to wrap their heads around in that moment. On the other hand, I am never more comfortable than when I have a project. So at their request, I engaged a terrific editor and began cutting a video to be shown at the memorial. I struggled with how to cover Jon's life and career in any way that felt worthy of him and landed on a final cut that clocked in at around 42 minutes. No problem. We'd just break it into four ten-minute chapters and thread it through the service in between speakers. Jon's daughter Lucinda liked that plan and, at that point, I felt like my contribution would probably end there. Still, Lucinda wanted my help so I flew out a few days early to be of whatever aid I could. Lucinda asked if I would like to stay at her parents' house. I hadn't ever been in the house without Jon. But now I would be staying there, sleeping in Jon's bed, surrounded by his toys and his energy. It was bizarre and profound.
I went to the theater with Lucinda the day before the service to look at the space. The stage felt naked. It needed something. So we came up with the idea of creating a tableau, a sense of Jon via set dressing made up of things that represented him. So we gathered some of his favorite toys from the house that he'd collected through the years. We also grabbed a hat rack covered in many of the hats he'd worn when he played different characters; a parking meter (inspired by Jon's longstanding joke that's what he wanted instead of a headstone on his grave); the chair from his study next to a table with the ashtray containing the last third of the last cigar he ever smoked; and, as a kind of cherry atop the sundae, his treasured Hopalong Cassidy lunchbox.
The morning of the service, as I was showering in Jon's bathroom, he spoke to me. I know. Believe me, I know. But I swear I heard his voice bouncing off the tile like he was right there in the room with me. It was only one sentence, but it was a clear instruction of something he wanted us to do that day. Quickly I got dressed and ran downstairs to find Lucinda making a pot of coffee. I told her what I believed her dad had just instructed us to do. It was a pretty macabre idea. But it also felt like Jon. Lucinda's eyes got wide and she just nodded. "Oh yes. We're doing that."
At the risk of being crass, I will speak of the event as a show. Because it was intended to remember Jon as he would have wanted. Full of fun and heart and playfulness. And although it was two hours long, the time flew by. The stories all spoke to a man who was not only loved but also revered. And at the end of the service, I had to let the cat out of the bag. In my closing remarks, I said that the love and the laughs were the tribute our friend deserved. But that we all would probably agree that there was one performer we all wished could have been on the stage there with us. With that I picked up Jon's Hopalong Cassidy lunchbox, set it on the podium before me and said, "Guess what. He has been… this whole time." The realization from the crowd drew a gasp and then an appreciative ovation. It belonged entirely to Jon. Because what he had said to me in the shower earlier that morning was simply "Put me in the lunchbox." So we did.
Later that night back at the house, Robert Klein and I smoked a couple of the last remaining cigars from Jon's humidor. Many of Jon's friends were there, not wanting the day to end. In a quiet moment, Lucinda beckoned to me. With the lunchbox in her hands, she asked if I wanted to "take some of Daddy" home with me. In a moment that was as hilarious and surreal as the entire weekend, Lucinda pulled out a tablespoon and gave me three scoops of her father's remains. (She only instructed me to not try to snort him in an effort to try to become funnier.) So now, at this very moment, there is a tiny silver urn with a little bit of Jonathan Winters on a shelf in my living room in New Jersey. But in truth, there is no container that could ever hold all that Jon meant to me. There are no words that can adequately express how I felt and will always feel about him. And I will spend the rest of my life, as Jon described how he spent his, in search of a playground.