- - -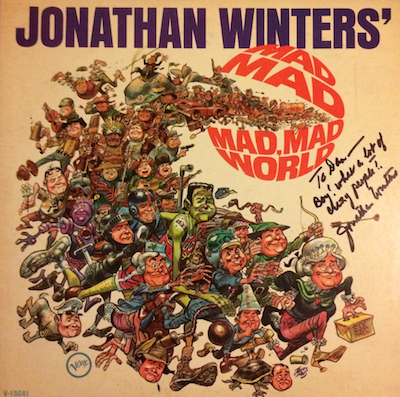 - - -
Jonathan Winters was a gift in my life. But like all great gifts, he was meant to be shared. Jon loved meeting all the best, smartest, funniest people working today and they, in turn, treasured getting to know him.
On April 1st 2005, Jon and I had a playdate. I always remembered to celebrate that date with him, as it was the anniversary of when he got out of "the farm" in 1962. Over lunch I asked him if he was watching anyone he thought was funny. He enthused that he and his wife Eileen loved Jimmy Kimmel's late night show on ABC. As Jimmy has been a close friend since his days as a local radio personality in LA in the mid-90s, I couldn't whip out my phone fast enough to call him. I knew he was on vacation out of the country at the time, but I thought he'd get a big kick out of having a voice mail from Jonathan Winters waiting for him when he got back. But to my surprise, Jimmy picked up. Barely able to contain myself, I told Jimmy I had someone who needed to speak with him and I tossed the phone across the table. Jon affected a professional tone, introducing himself as "Norman Feldman from Rainbow Pictures." He then proceeded to tell Jimmy that he had six million dollars to make a feature film and wanted to offer him three-hundred thousand to be in it. Before Jimmy could figure out what was going on, Jon switched gears, impersonating Jimmy's on-air foil Guillermo. Finally, Jon revealed his true identity to Jimmy and said that he and his wife watched him every night and were such big fans that they were raising money to take Jay Leno to a "real Italian neighborhood where he'd get the shit beaten out of him."
By the time Jon handed me back the phone, Jimmy was beyond thrilled… and just a little incredulous. "Pasternack, if this is an April Fool's joke, I will never forgive you." As it turned out, Jimmy's dad was such a huge fan of Jon's, that when Jimmy's younger brother was born, they decided to give him the same name as his favorite entertainer: Jonathan.
Jimmy had Jon on the show a couple of times and he would later say that it made him feel "like a real life talk show host." But maybe the most special day was when I took Jimmy's dad up to Santa Barbara for a playdate. Jon didn't disappoint. He opened the door dressed as a WWII U-boat commander and pointed his cane at Jim senior, barking at him in a thick German accent. Jim wept and said, "You have no idea what you mean to me and my family." Jon beamed and took Jim inside to try on an array of his favorite hats.
Over the next few years, I took every opportunity to find ways to pull Jon into whatever I was doing. When I sold a pilot to the Fox network with the wondrous comedy duo Frangela, the Second City trained comic actresses leapt at the opportunity to work with Jon. Along with our showrunner David Zuckerman, they wrote a part for him. Jon came down to LA for the table read and masterfully delivered the goods. But there was a snag. The network didn't want him. I was devastated. How could I break the news to him? Then I had an idea. I told him that if he wanted to do the pilot, he would need to sign the customary five-year series contract. As his wife was gravely ill at the time, Jon apologized and said he couldn't make the commitment. He didn't want to let me down, but I told him I understood and was able to spare my pal's feelings.
The next year I accepted a job with Turner Broadcasting and moved to Atlanta. Jon and I spoke frequently by phone. At the time, I was working with comedian Chelsea Peretti on a web series wherein she would interview her ex-boyfriends about what had gone wrong. Like Jimmy, Chelsea was a fan since she was little via her father, so once again, I conspired to play matchmaker. I flew out for the shoot and had lunch with Chelsea and Jon before we got underway. Seated in the same restaurant from where we had first called Jimmy, we phoned Chelsea's dad. Predictably, Jon was hilarious, creating a precious memory for Chelsea and her dad.
By 2009, the Turner gig had ended and I was in New York producing the series Gravity for Starz. My friend Paul Provenza was in LA producing the first season of his series The Green Room for Showtime and was determined to build an episode of his free-form panel show with comedians around Jon. Having introduced Paul and Jon a couple of years earlier, there was a real warmth and familiarity already in place. I worked with Paul to construct just the right panel for the episode. Robert Klein was a hero of Paul's and I knew Jonathan was a hero to Robert. I phoned Klein who initially demurred at the invitation… until he learned that he'd be working with Jonathan. Never has there been a faster, more dramatic about-face. I believe Robert's exact words were "Anywhere. Anytime."
The last addition to the panel was the brilliant Rick Overton. A gifted, jazz-minded improviser, Rick would be the perfect final ingredient to the comic stew. I traveled from New York to LA for less than 24 hours to be a part of the taping and despite being wildly sleep-deprived, I have rarely felt more awake than I did thanks to the adrenaline produced by that magical environment. And most importantly, Jon shined and had a blast.
In 2010, I moved to New York and began working in development for the IFC cable network and one of the first people I was determined to bring into the fold was Marc Maron. In one of our first meetings, Marc surveyed the signed comedy LPs adorning the walls of my office and zeroed in on Winters. Marc asked if I thought I could get Jon do appear on his WTF podcast. I said I'd try to make it happen. So the next time I was in LA, I set aside a day to go up to Santa Barbara and see Jon. Sitting in his study smoking a couple of "heaters" (Jon's favorite term for cigars) we rang Marc. It went to voice mail and Jon left a message… naturally as a character. By the time I had driven back to LA, Marc called me. He had returned to the mystery caller from the 805 area code and connected with Jon. Marc was overjoyed. And Marc isn't easily overjoyed. Marc would later make the drive up to Santa Barbara and had a warm and wonderful one-on-one on his podcast with Jon.
But maybe the most significant connection I helped facilitate for Jon was with my friend, comedian Maria Bamford. Maria and I did a web series together when I worked for Turner and I have long said of her that she's the closest comic voice to Jon's. A singular, virtuosic performer with a genius for creating highly specific, fully dimensional characters, I later learned that Maria also had something else in common with Jon. Maria would come to be hospitalized and diagnosed as bi-polar. Fearful of how her life and her art would be affected by this diagnosis and by the impact of medication, Maria reached out to me and asked if I could introduce her to Jon. He was glad to speak with her at length and offered her advice and perspective. Maria took comfort in Jon's guidance and her personal and professional life have continued to flower and flourish.
Jonathan Winters touched a lot of lives. He profoundly touched mine. To think I was able to have touched his in any measurable way was an honor and a privilege. And the story of our greatest adventure together is the next installment.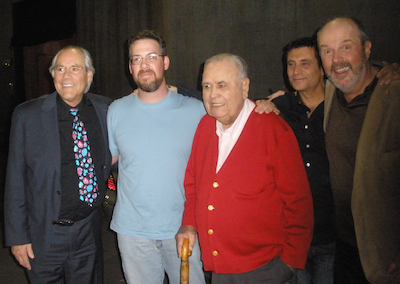 - - -
TO BE CONTINUED…