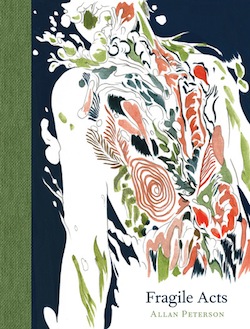 - - -
The world is terrifying and exhilarating. Believing firmly in the romantic notion that "embellishment is love," Allan Peterson in Fragile Acts combines the intellectual force of T. S. Eliot and Wallace Stevens, the ethereal wonder of Robert Hass, and the tight lyric beauty of Elizabeth Bishop and Donald Hall. These steely, wide-ranging poems are at once personal and philosophical, incisive and meditative—funny, serious, compassionate, and searching. Juxtaposing the fast pace of contemporary society with the quiet localism and naturalism of the great American transcendentalists, Peterson's sinewy, muscular collection reveals a profoundly intelligent, curious mind leaping from object to thought to emotion. And yet, poem after poem, Peterson somehow binds seemingly unrelated elements into one stunning whole. Peterson has readers nodding their heads in reflection one moment and laughing out loud the next. These moving poems are a profound delight to read.
- - -
LONG

DISTANCE


(From Fragile Acts)

Astronauts say their dreams are like earth dreams
but the people are floating.
Last night when Frances answered her dream phone
I was down under the pastry layers
of sheets and blue throw. Later she asked did I hear it.
No, I had been orbiting myself,
misreading a box in Carol's kitchen "cloudless" for cordless.
At night when stars fall on Alabama
water goes granular and steps back, dreams improve us
with their thick pastels, revisits in tints.
Maybe the astronauts called from their cloudless telephones
with news from Long Distance:
Romans invaded Arabia Felix, Columbus discovered Ohio.

- - -

If you'd like to purchase Fragile Acts, please visit our store.